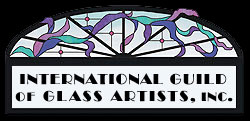 Member IGGA.org
Prices of windows vary greatly depending on size, amount of detail, bevels, special custom beveling and design time. I try my very best to offer a range to fit your budget, yet I still always offer the highest quality in materials, design and workmanship. I do understand that some clients would like something nice, but need to stay in a certain budget, while others want to see the very best that's available in material and design upgrades and price is not as important. Please call to discuss the various ways to get the perfect art window(s) for your project, while also meeting your budget and expectations.
How long does the project take?
This time frame varies depending on the size of the project, number of windows, custom beveling, etc. Often times, smaller projects can be done while I'm working on other larger projects. I make every effort to meet deadlines in those special situations. Generally, once designs and glass are chosen, a window can be done in 3 to 6 weeks, although it really varies from project to project. Please always let me know if you have a date that you are trying to have your window(s) completed, this way I can do whatever is possible to have it complete in that timeframe.
What about installation?
For local clients, installation can be arranged by Art Windows, unless you prefer to use your own installer. When installing windows which require a licensed contractor, I will work directly with the recommended contractor to keep the procedure coordinated. The installation portion of the bill will be billed through the contractor and is due at time of installation. Deliveries and installations that do not require a licensed contractor will be discussed at time of our meeting. In either case, you would know in advance what the charge for installation would be, if any.
OUT OF AREA installations:
For those requiring windows to be shipped to your home out of the So. Cal. area, the installation will be the responsibility of your contractor or installer. However, I will be happy to discuss installation with your contractor or handyman to get proper sizes and other information necessary to complete the job properly. Installation has never been a problem for my out of state clients, but feel free to call anytime for more information on installation process should you have any questions or concerns. I would always recommend that you use a licensed glass contractor if there's any doubt as to the safety of the installation and local codes, if any. I've never heard of anyone having a problem with installation, as they're pretty easy in most cases. They are NOT safety tempered glass, so you want to make sure that you're installing them correctly in areas where safety is a concern like you would with any other window in your home.
Do you have references?
Of course I would be happy to supply references to check up on how I work with my clients, if clients are satisfied with my service and their final project, and the professionalism of how I run my business. You can browse through the testimonials section or call me so I can direct you to previous clients who would be happy to comment on their experience working with me. Also, please read through my testimonial section.
What about shipping?
I have been shipping windows for years now and have developed a technique which works the great. You can read the article I had published in which I wrote about shipping stained glass safely and effectively. Basically, windows are double crated and packed in such a way as to assure a safe delivery. Over the years, I have found a system that works just great! Also, your window(s) are insured to arrive safely to your door, and though I haven't had any problems for years, things can happen, so insurance is essential. Each project is different, so packaging and shipping carrier may vary depending on size and quantity of windows.
Do you build your own windows?
This is a good question to be asking. Generally, I like to build windows myself, color and high detail windows especially. Generally, I make changes even after the glass is cut out, and sometimes even once the window is completed. As you must realize, due to demand and time constraints and the physical labor of building windows, I do have helpers available for doing production work in cases where multiple windows of the same pattern are being fabricated. In Southern California, I work closely with several people who are qualified to help me build my Art Windows. Together, we are able to maintain the quality I demand, and keep up with the workflow which sometimes is very high. Although I do some of my own beveling here in the studio, most of my custom beveling is done by some of the finest custom bevelers in the business. This is of optimum importance when complimenting my designs with intricate or unusual bevel work. Again, this is the most important question here, as there are big differences in quality when building and designing windows. I know many other fine artists in this field whom I would trust for safely and properly complete a window, but there are also other companies whom quality appears to have been compromised. I see this over and over again when I'm called out to repair other windows. Be sure you feel comfortable with your choice to have custom windows designed and built, and once again, get references if you're not sure.
Are your windows authentic stained glass windows?
Yes, Art Windows builds only authentic stained glass windows. They are not one of the various imitation stained glass products on the market, although I do respect the artists who work with these other crafts. When purchasing stained glass, be sure you understand the differences so you'll know what's right for you. Real stained glass windows are built to last for years before any possible restoration may be necessary. Art Windows are made in the traditional way, with lead, glass and putty, as they have been for centuries. Sometimes zinc, steel or other materials are integrated as needed, and some lead free options are available on request. They are repairable and restorable for generations to come.
Can these be installed over an existing dual pane or single pane window?
Many authentic stained glass windows are mounted from the inside of your home and placed up against the existing glass before securing in place. This is most often recommended for a number of reasons and it is not to be confused with the imitation stained glass look-a-like. Authentic beveled or stained glass windows can also be installed in place of the existing window and just depends on which you prefer after hearing the pros and cons of both. Please call for more information on the options you'll have for installing your new authentic stained or beveled glass window. It's an important part of the process and make sure you know the different options.
Can I subscribe to your photo list?
Absolutely! You can subscribe to my photo list and I assure you that I never sell or share these email addresses. My list is maintained by www.aWeber.com and is a highly respected autoresponder and email list service. Once you subscribe, you will be sent a confirmation email to make sure that it did come from you. In order to complete the subscription, you must respond to that email so please look for it shortly after subscribing. You can easily unsubscribe at any time per the simple instructions at the bottom of the emails you receive.
When you subscribe, you will receive an email to additional windows that are not yet on the website. Then about once every couple of months, you will receive an email from me with a link to the most recent windows completed.